50 years after 'Earthrise,' we are racing toward 'Earthset'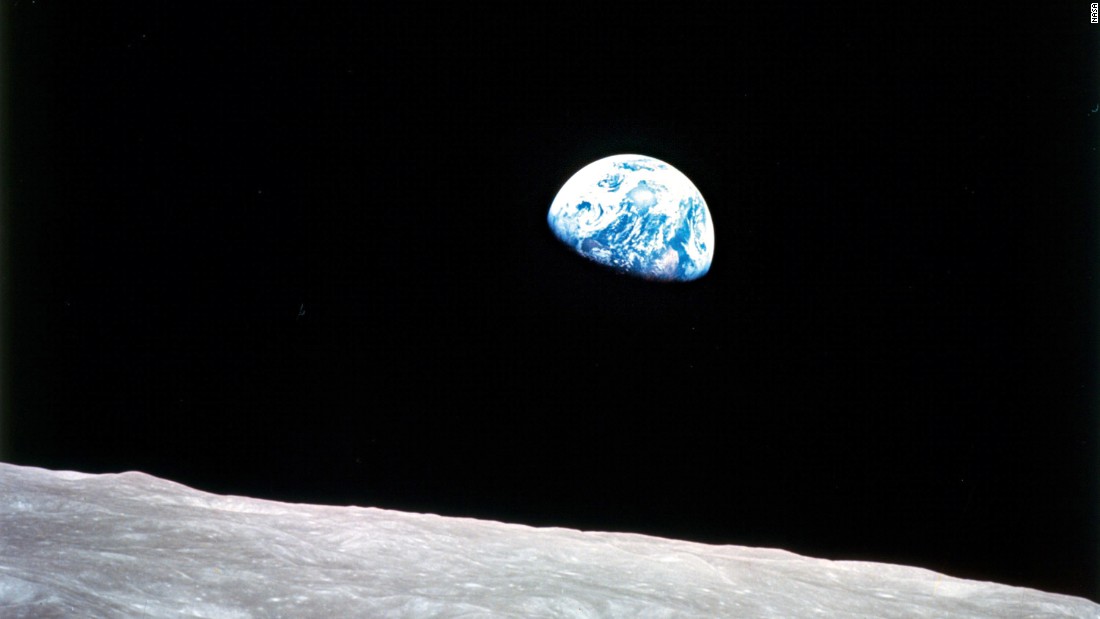 (CNN)Fifty years ago, astronaut Bill Anders captured an iconic photo of Earth. Looking out a window of the Apollo 8 spacecraft on Christmas Eve, 1968, he glimpsed a splash of blue beyond the lunar surface. After a fumbling exchange in zero gravity, his crewmate Jim Lovell extended a roll of 70 mm color film. At 16:39 Universal Time, 240,000 miles from home, Anders aimed his Hasselblad camera and brought our world into focus in one of history's most famous photographs.
The sight of Earth, bursting with color against the inky darkness of space and a barren moonscape, was "the most beautiful thing I'd ever seen," Anders told Andrew Chaikin, a writer who
later recounted
the photo's fascinating history for the Smithsonian. And the view was "totally unanticipated," Anders said, because the mission had been so focused on going to the moon.
Yet it was not their destination that captured the collective imagination, but the home they had left behind.
It was days before the astronauts returned home, and the film was developed and released by NASA to the public. Back on Earth, the reaction was euphoric. People across the globe were astonished at the image of a blue orb shrouded in wispy white clouds, its land surfaces betraying no national borders.
Of more enduring relevance, the serendipitous photo inspired the modern environmental movement. Legions of conservationists would later trace their awakening to Anders' space-age shot seen round the world, and the first Earth Day was launched in April 1970, a year and a half after the taking of the photo.
Looking back, the hope implicit in Earthrise seems misplaced. Yes, we have taken
some steps
to restore our planet, including its once-thinning ozone layer. But we have failed miserably on numerous other fronts, continuing to take the biosphere for granted. Instead of uniting to preserve our fragile planet, we have plundered the very life support system on which our survival depends.
That was the
unmistakable message
at the acrimonious global climate conference in Katowice, Poland, in December. With Earth hanging in the balance, the Trump administration
redoubled
its retrograde support for fossil fuels at the climate conference. Delegates finally agreed on a set of fundamental transparency measures, but only after an all-nighter in which they put off the most contentious issues until next year. Meanwhile, greenhouse gas emissions
continue
to accelerate "like a speeding freight train."
A mere half-century after Earthrise, we are racing toward Earthset.
Read more: https://www.cnn.com/2018/12/23/opinions/earthrise-racing-toward-earthset-patrick-evanoff/index.html
---
---