Injured toddler's future waits on Trump travel policy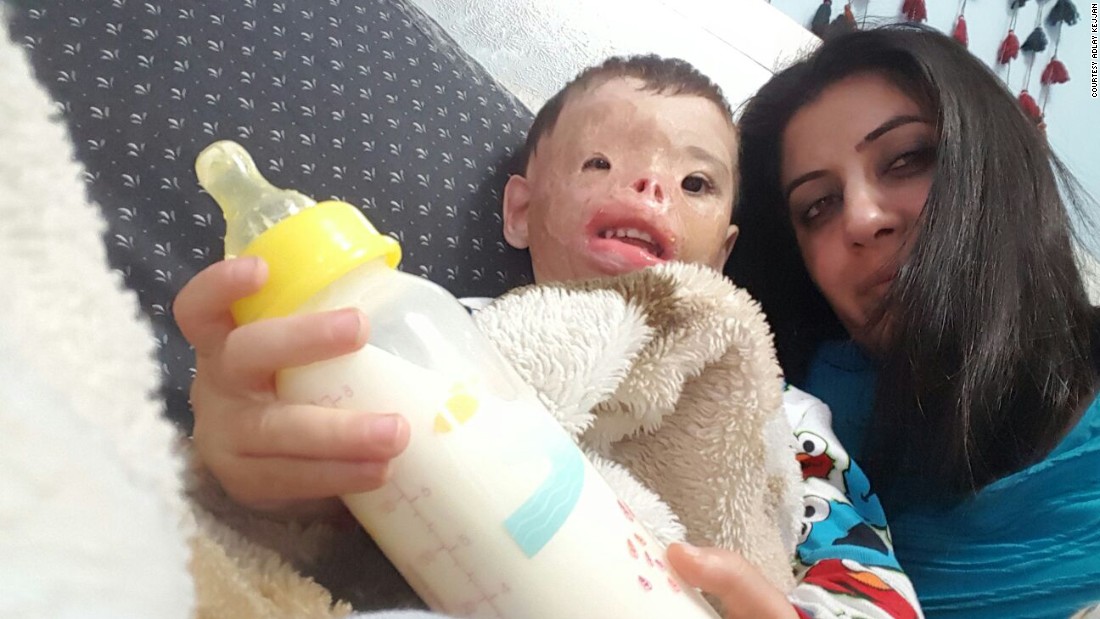 (CNN)Severe burns disfigured the toddler's face. Scars are scattered under little Dilbireen Muhsin's chin.
In Kurdish, the young Yazidi boy's name means "wounded heart
."
Yet 2-year-old Dilbireen, affectionately called Dili, remains cheerful and self-sufficient. He enjoys cuddling with his blanket and playing peek-a-boo, and he exhibits more independence than many other children his age — from
feeding himself
to
brushing his own teeth
.
This might be because he has been without his mother for so long, said Dilbireen's caretaker, Adlay Kejjan, in an exclusive interview with CNN's chief medical correspondent Dr. Sanjay Gupta.
Dilbireen arrived in the United States last year to receive medical treatment for severe burns after a fire in his home in a refugee camp. While he now lives with a family in Lansing, Michigan,his parents and baby brother are in their native country, Iraq. They're making efforts to be by Dilbireen's side in the United States, but their travel visas were revoked in early January.
President Donald Trump's travel ban
now has them concerned that they won't be able to get back to Dilbireenand that he might return to Iraq without additional surgeries to improve the function of his face.
Becker, the founder of Road to Peace, said she has identified about 87 other children in Iraq who need specialized medical attention, similar to Dilbireen.
"Dilbireen is an amazing little boy, and I really, really hope that the US government will realize how important it is for this child to be reunited with his parents and get the surgery he needs, but I also want people to bear in mind that there are hundreds of other children in desperate need of help," Becker said.
"Shriners has kindly said that they would treat as many of the children as they can with no payment, but of course it depends on visa approvals. … I'm also hoping that other countries might step in to help," she said.
Read more: http://www.cnn.com/2017/02/03/health/iraqi-refugee-dilbireen-profile/index.html
---
---