Pressure on Mnuchin rises as top CEOs pull out of Saudi conference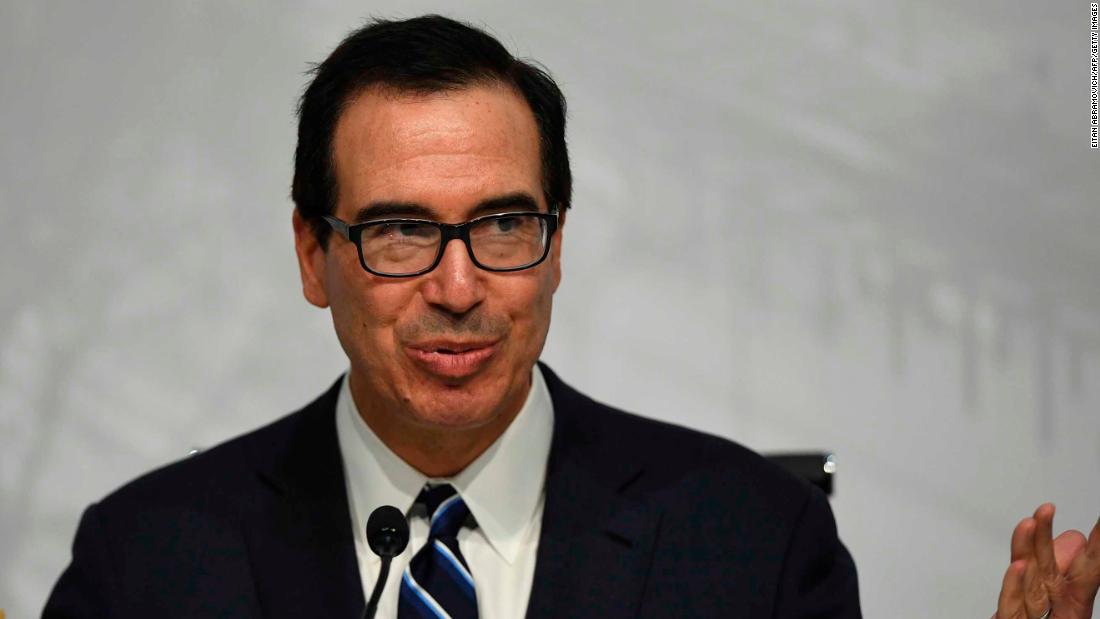 (CNN)Treasury Secretary Steven Mnuchin still plans to go to Riyadh for a high-profile economic summit later this month, even as top bank executives and investors continued to drop out after the disappearance of a dissident Saudi journalist.
On Sunday, a Treasury Department spokesman told CNN, "We will be evaluating the information that comes out this week."
Mnuchin has, over the past week,
become the face
of the Trump Administration's unwillingness to back away from Riyadh amid rising international attention to the case of Jamal Khashoggi, who hasn't been seen since going into the Saudi consulate in Istanbul on October 2.
The Kingdom of Saudi Arabia considered delaying the Saudi investment conference until after the investigation, according to a source with direct knowledge of the situation.
It is unclear if that is still under consideration, according to the source.
The Saudis "have to be aware that if they move forward with the conference, the story will be 'nobody showed up,'" the source said.
CNN received no response when reaching out to the CEO, managing director, and organizers of the conference.
Turkish authorities claim to have evidence Khashoggi was killed inside the building, a claim the Saudis strenuously deny. Saudi Arabia has given Turkey permission
to search its Istanbul consulate Monday afternoon
, a Turkish diplomatic source told CNN.
"Mnuchin will make up his mind as the week progresses and as new information surfaces," White House Economic Advisor Larry Kudlow said Sunday on ABC's This Week.
Trump has responded to the issue with some hesitation.
"There's something really terrible and disgusting about that, if that were the case. So we're going to have to see," Trump said in a "60 Minutes" interview broadcast Sunday. "We're going to get to the bottom of it and there will be severe punishment."
JPMorgan Chase CEO Jamie Dimon, Ford Executive Chairman Bill Ford, and Uber CEO Dara Khosrowshahi are some of the high-profile names who will no longer be attending the conference. Blackrock CEO Larry Fink and Stephen Schwarzman, the CEO of investment firm Blackstone, have also withdrawn.
Kai-Fu Lee, a former Google executive who was on the list of speakers, will no longer participate, a spokesperson for his investment fund, Sinovation Ventures, told CNN on Monday.
Former Army general and CIA director David Petraeus, who now chairs the KKR Global Institute, has also withdrawn, according to a company spokesperson.
However, International Monetary Fund chief Christine Lagarde told reporters Saturday at the IMF's annual meeting in Indonesia she still planned to go but would be paying close attention to new information about Khashoggi's disappearance.
Former deputy national security adviser Dina Powell, who returned to Goldman Sachs after leaving the Trump administration this year, is still planning to attend, according to a person familiar with her plans.
Mnuchin has repeatedly been called on to say whether he'd still attend the summit, which is part of Saudi Crown Prince Mohammed bin Salman's efforts to modernize the country's economy and wean it off its dependence on oil.
The Saudi stop is one of several Mnuchin is making on Middle East visit, so he will have a chance to cancel at the last minute without scrapping the entire trip. The secretary is scheduled to leave at the end of the week.
Republican Senator Marco Rubio on Sunday told CNN's Jake Tapper on "State of the Union" that he thinks Mnuchin should not go to the conference.
"I don't think any of our government officials should be going and pretending it's business as usual until we know exactly what's happened here," Rubio said.
Read more: https://www.cnn.com/2018/10/15/politics/mnuchin-saudi-conference/index.html
---
---