State Dept. says no final conclusion reached on who's responsible for Saudi journalist's killing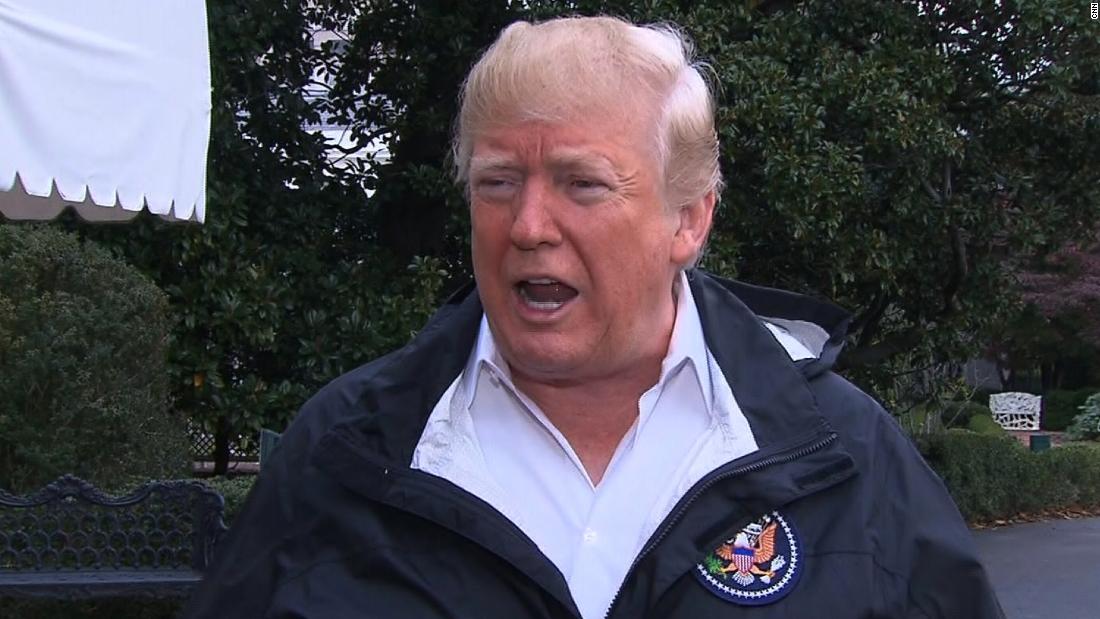 Washington (CNN)The State Department said Saturday that the US government has not drawn a final conclusion about who is responsible for Saudi journalist Jamal Khashoggi's brutal assassination.
"There remain numerous unanswered questions with respect to the murder of Mr. Khashoggi," State Department spokeswoman Heather Nauert said in the statement Saturday afternoon. "The State Department will continue to seek all relevant facts."
President Donald Trump said later Saturday that it was "premature" to assess Prince bin Salman was responsible for Khashoggi's killing and added that there would be "a full report on Tuesday, and it will be very complete."
"We're going to come up with a report as to what we think the overall impact was and who caused it and who did it," Trump said while touring devastated homes in Malibu, California. "We're talking about a killing. We're not talking about anything else. We're talking about a killing, so who did it."
The President was briefed Saturday morning on the CIA's assessment, White House press secretary Sarah Sanders confirmed to reporters.
Trump spoke by phone with CIA Director Gina Haspel and Secretary of State Mike Pompeo while en route to California on Air Force One to survey wildfire damage, Sanders said.
On Saturday, Sanders declined to answer questions from reporters about the CIA's assessment, referring questions to the State Department.
Asked whether Trump believes the assessment and has confidence in the CIA, Sanders replied, "He certainly has confidence in the CIA, but I'd refer you to the State Department."
Before departing the White House earlier Saturday morning, the President told reporters that he had "not been briefed yet" on the CIA's assessment, but said he had been told that bin Salman was not involved.
"As of this moment, we were told that he did not play a role," Trump said of bin Salman, the 33-year-old de facto ruler of Saudi Arabia, who has a close relationship with Trump's senior adviser and son-in-law Jared Kushner. "We're going to have to find out what they have to say."
Khashoggi's death has created a crisis for the Trump administration, raising questions about the United States' reliance on the kingdom to help achieve peace in the Middle East, contain Iran and keep oil prices steady.
Trump said Saturday that the US has "a great ally in Saudi Arabia."
"They give us a lot of jobs, they give us a lot of business, a lot of economic development," he said, adding that the country has been "a truly spectacular ally in terms of jobs and economic development."
US investigators believe an operation such as the one that ended in Khashoggi's death would not have happened without bin Salman's knowledge, given his control of the government, the senior US official told CNN.
Riyadh still contends that the crown prince had no involvement in Khashoggi's death.
"The Trump administration should make a credible determination of responsibility before (bin Salman) executes the men who apparently carried out his orders," said the retiring Tennessee Republican, who has been outspoken against Trump.
The Saudi government has blamed Khashoggi's killing on several rogue operatives who were attempting to bring the journalist back to Saudi Arabia.
Earlier Thursday, the Saudi Public Prosecutor's Office said 11 people had been charged for their involvement in the death of Khashoggi, adding that five are facing capital punishment for being directly involved in "ordering and executing the crime."
Khashoggi was killed following "a fight and a quarrel" at the Saudi consulate, the prosecutor's office claimed. Prosecutors said Khashoggi was tied up and injected with an overdose of a sedative that killed him. Then, according to prosecutors, his body was dismembered and removed from the consulate by five people.
Read more: https://www.cnn.com/2018/11/17/politics/trump-cia-assessment-khashoggi/index.html
---
---