Trump says London hospital is like 'a war zone' from knife attacks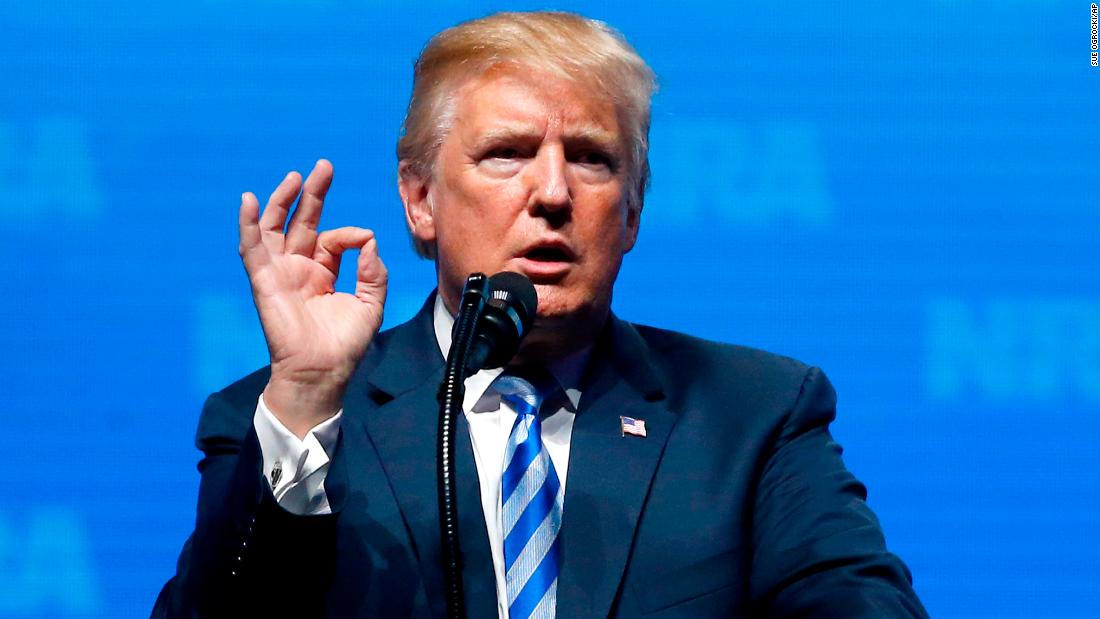 (CNN)President Donald Trump compared an unnamed London hospital to a "war zone" on Friday, saying despite tough gun laws in the UK, it has blood all over the floors from victims of knife attacks.
"They don't have guns. They have knives and instead there's blood all over the floors of this hospital," Trump said. "They say it's as bad as a military war zone hospital … knives, knives, knives. London hasn't been used to that. They're getting used to that. It's pretty tough."
It's unclear what hospital Trump was referring to. But the
BBC reported that a trauma surgeon
at the Royal London Hospital recently told the network that his fellow doctors have compared it to an Afghan war zone.
"Some of my military colleagues have described their practice here as being similar to being at (Helmand province's former Camp) Bastion," Dr. Martin Griffiths told the BBC. "We routinely have children under our care — 13, 14, 15 years old are daily occurrences, knife and gun wounds."
Amid the furor over Trump's comments, Griffiths tweeted Saturday: "Happy to invite Mr Trump to my (prestigious) hospital to meet with our mayor and police commissioner to discuss our successes in violence reduction in London."
London Mayor Sadiq Khan's office declined to comment to CNN following Trump's remarks.
Police: London among safest cities in the world
There have been growing concerns over knife crime
after figures last year
showed such attacks had reached the highest point in England and Wales since 2011, the earliest date for which comparable data are available.
It is a particular problem in London, which recorded the highest rate of knife crime per capita of any police force in England and Wales in the year ending March 2017.
London's Metropolitan Police said last month that it's investigating the cause of the increase in murders,but said the city remains among the safest in the world.
About 60 suspected murders have been reported in the city so far this year, including assaults and stabbings, the Met Police said Saturday.
Last year, London had a total of 116 murders, including at least 80 stabbing victims and 10 gunshot victims, police said.
Police figures show London had 4,700 incidents of knife injuries between April 2017 and March. The previous year's number was 4,446.
Chicago gun violence
During his NRA speech, Trump also took aim at Chicago, saying it has tough gun laws but a problem with gun violence.
"We all know what's going on in Chicago, but Chicago has the toughest gun laws — they're so tough, but you know what's happening."
Using that same argument, he asked whether the vans, trucks and cars used in terror attacks should be banned.
Trump has a history of criticizing London, and has had well-documented spats with its mayor.
Trump to visit Britain
The President is expected to visit the United Kingdom in July, according to two people familiar with the matter. The trip would conclude months of back-and-forth over when he'll visit America's closest ally.
Trump also attacked the
UK's National Health Service in February,
claiming it is "going broke and not working." He accused Democrats of pushing a similar universal health care system for the United States.
"We had the best site in all of London," Trump said last month, before adding that now, "We have an embassy in a lousy location."
Read more: https://www.cnn.com/2018/05/05/politics/trump-london-hospital-nra/index.html
---
---