More than 34 million people could see severe weather Wednesday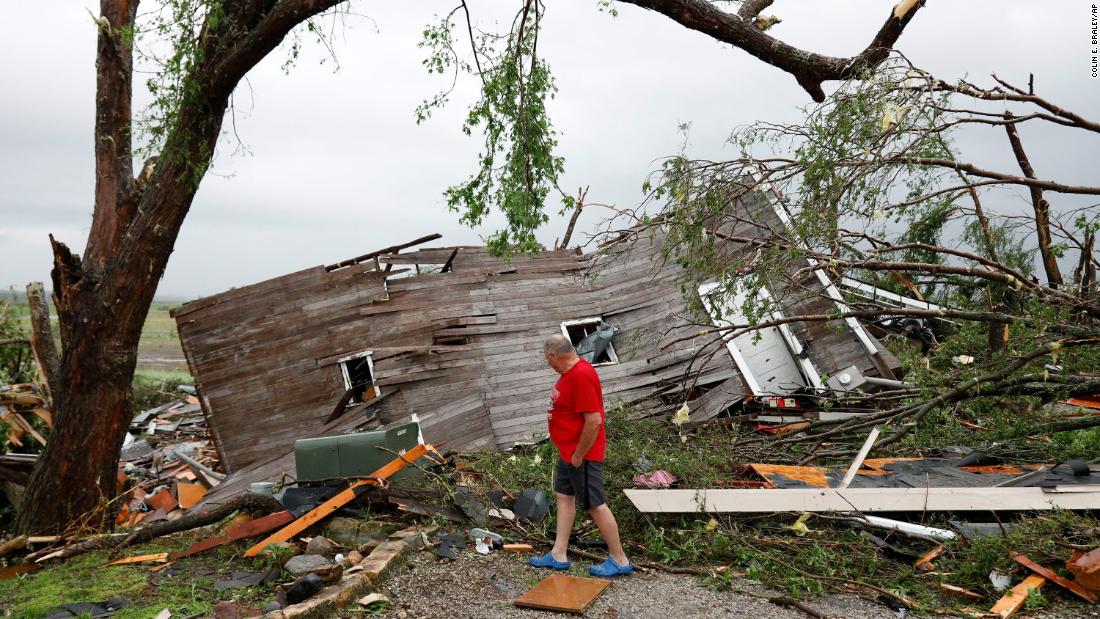 (CNN)As people cleaned up tornado debris in hard-hit sections of several states, tens of millions braced Wednesday afternoon for more bad weather.
The other stretches from the eastern Ohio River Valley into Pennsylvania and the Mid-Atlantic coast, and includes the cities of Philadelphia, Baltimore and Washington.
And though New York is in the area where there is a "slight risk" of severe weather, the New York City Emergency Management Department told residents to be alert. Authorities said nuisance flooding might occur and they could not rule out the possibility of flash flooding.
"The increased potential for severe thunderstorms may create dangerous travel conditions this evening," said Emergency Management Commissioner Joseph Esposito.
Tornado warnings popped up Wednesday afternoon in Arkansas, Illinois, Iowa, New Jersey, Pennsylvania, Oklahoma and Texas.
Brent Kay Maynard said he had just walked out of a building when he saw a tornado from the parking lot of Mabank High School in Mabank, Texas, southeast of Dallas.
Dozens of homes gone, Kansas mayor says
Parts of Kansas and Pennsylvania are recovering from another terrifying evening of tornadoes — the 13th consecutive day that twisters have struck the US.
A massive, rain-wrapped tornado ripped by Linwood, Kansas, outside Kansas City on Tuesday evening, and dozens of homes on Linwood's outskirts are "all gone," Mayor Brian Christenson told CNN.
At least one tornado and severe storms ravaged areas there and in nearby Douglas County, Kansas, destroying stretches of homes and businesses.
Thirteen people were treated for injuries at
LMH Health hospital
in Lawrence, 11 of whom have been released after treatment, the hospital said.
The tornado near Linwood was an EF4 with peak winds of 170 mph, the National Weather Service said. It was on the ground for 32 miles.
"I feel lucky I'm alive."
In Berks County, Pennsylvania, another tornado was confirmed by the
National Weather Service
"based on video received showing a tornado on the ground." It moved through the area Tuesday evening.
Morgantown was one of the hardest-hit areas in the county, but no one was injured there, Caernarvon Township Police Chief John Scalia told CNN affiliate
KYW
.
"When you drive around, see the destruction, you realize how lucky we are nobody was hurt," Scalia said.
Arkansas braces for record river levels
Rains this week are exacerbating flooding that has troubled parts of the central US for weeks.
In western Arkansas near the communities of Van Buren and Fort Smith, the Arkansas River is expected to crest Wednesday afternoon at around 41 feet — roughly 3 feet above the record there.
Levees along the river in Arkansas have worked so far — water has overtopped two of them, but they have not failed, Arkansas emergency management spokeswoman Melody DanielDaniel said.
Daniel said more than a dozen Arkansas counties are expected to see historic flooding.
Officials in the central Arkansas city of North Little Rock, across the river from the state capital, believe 50 homes could soon be impacted by flooding, the city said in a Facebook post.
One person was killed in Arkansas Tuesday evening after drowning in floodwaters, police told CNN.
Intentional water release has been flooding homes outside Tulsa
In western Oklahoma, the swollen Arkansas River has posed a threat to Tulsa's levees — so the Army Corps of Engineers has intentionally been releasing water from a dam to the west in hopes that the levees aren't overwhelmed.
Although that spilled water won't threaten Tulsa, it is
contributing to the flooding
of dozens of homes in a less populated area, just outside the city of Sand Springs.
Some homes had 2 to 6 feet of water in them, residents told a CNN crew there.
Rick Sawn's Sand Springs-area home still was dry on Wednesday morning, but water has been creeping toward it.
"I think it's a 500-year flood and so far our dam and levees are doing what they were designed to do," Sawn, 68, said. "There is flooding and some loss of property, and long-term recovery head of us, but without the dam system, it would have been far, far worse."
The Army Corps of Engineers has been releasing about 275,000 cubic feet of water per second from the Keystone Dam, about 20 miles west of Tulsa — which is the equivalent of three Olympic-sized pools. Doing so will increase the strain on some of Tulsa's levees, Tulsa Mayor G.T. Bynum said.
The Keystone reservoir has started dropping, and that could allow the Army Corps of Engineers to slow the rate of the water release by Friday, corps hydrologist David Williams said.
Bynum has been asking Tulsa residents who live near the levees to relocate temporarily, just in case the levees don't hold.
"There is absolutely no need to wait until the last minute when an evacuation might be necessary," he said at a news conference.
More than 500 tornado reports in 30 days
So far this year, there have been at least 960 tornado reports, compared to the average year total of 750.
The National Weather Service has received more than 500 tornado reports across the country in the last 30 days — an unusually high amount.
There are only four other recorded instances when more than 500 US tornadoes were observed in a 30-day period: in 2003, 2004, 2008 and 2011, according to Patrick Marsh, a meteorologist with the weather service's Storm Prediction Center.
Tuesday was the 13th straight day of tornadoes in the US, and the 12th consecutive day with at least eight or more tornado reports, CNN's weather team said. The month of May has brought more than 460 reports of tornadoes in 22 states across the country, with Texas, Oklahoma and Kansas making up 50% of the reports.
The jet stream played a part in the activity of the last two weeks, CNN meteorologist Chad Myers said.
"It is a stuck jet stream," with areas of low pressure riding along it, Myers said.
The jet stream will finally shift by Thursday, and the risk for severe weather in the US will greatly diminish for at least the next week, Myers said.
Read more: https://www.cnn.com/2019/05/29/us/severe-weather-tornadoes-wednesday-wxc/index.html
---
---