Stomach bug strikes hundreds aboard British cruise ship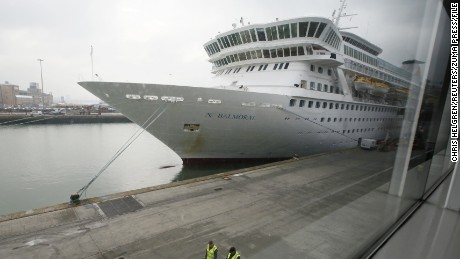 (CNN)More than 200 passengers on a British cruise ship have fallen ill with the gastrointestinal condition norovirus, the CDC reported.
The CDC said 252 of 919 passengers — 27% — have gotten sick on the Balmoral, a ship operated by Fred Olsen Cruises and most recently docked in Maine. Eight of 520 crew members have come down with norovirus, the CDC said.
CDC employees boarded the ship when it arrived in Baltimore April 30 to conduct an environmental health assessment, the agency reported on its website. Specimens obtained by the CDC confirmed the existence of norovirus.
The CDC said the cruise line has increased disinfection procedures, collected stool specimens from passengers and sent the public health and sanitation manager from the cruise line's corporate office to oversee sanitation procedures.
The cruise line put out a press release
April 29 saying that "a gastro-enteritis type illness has affected a number of guests." The press release said Fred Olsen Cruises was cooperating with all investigating agencies.
The ship left Southampton, England, April 16 for a 34-day "Old England to New England" cruise, according to the cruise line's website.
"I could see there were people wiping things down constantly. We got onto the elevators and they wiped the elevators down," he said.
It's the most common cause of acute gastroenteritis — often called a stomach bug — in the United States, according to the CDC. It causes 19 million to 21 million illnesses every year, most often in crowded environments such as nursing homes, day care centers and cruise ships.
The cruise line press release said the majority of passengers are from the United Kingdom.
Read more: http://www.cnn.com/2016/05/08/us/cruise-ship-sickness/index.html
---
---